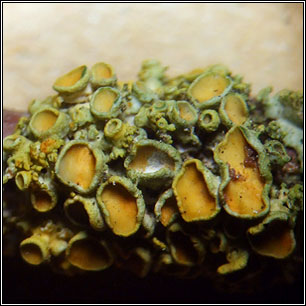 Order: Teloschistales Family: Teloschistaceae

Species: Xanthoria polycarpa


Growth type foliose
Photos: On urban trees. Dublin and Macroom, Ireland.

Thallus forms small rosettes of orange-yellow to greyish-yellow crenulate lobes with finely divided apices. Abundant apothecia, often completely covering the thallus. Orange-brown discs become contorted, margin sometimes excluded. Isidia and soredia absent. Ascus 8-spored, spores colourless, polarilocular, 11-15 x 6-8 Ám. Microscope photographs below.

Occurs in urban and rural areas on nutrient-rich or high PH bark in angles of twigs, often on Elder. Most records are from NE Ireland. K+ crimson / purple.

Can be confused with immature X. parientina.