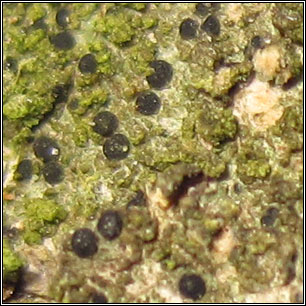 Order: Lecanorales Family: Catillariaceae

Species: Catillaria nigroclavata


Growth type crustose
Photos: On tree trunk, Aughinish, Co. Limerick, Ireland.
Identification needs confirming

Thin, often inapparent thallus, pale grey to dark grey-brown. Apothecia 0.15-0.3mm, dark brown to black.Hymenium colourless. Spores 8-10 x 2.5-3 Ám. Microscope photographs below.

Found on both rough and smooth barked deciduous trees, can be locally common on twigs in young woodland.